Here is our product history...
When we started out I thought it was best to get products geared towards baby right? Well, yes and no. As long as the products don't have harsh chemicals it is okay to use on baby, depending how old though. I started using products on Kurly T at 4 months. Her hair wasn't responding just to Johnson's Head to Toe. It was out of control. Here is what we started out with...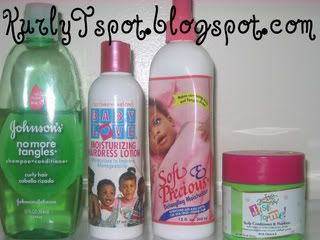 We used these from 4 mos old to 12 months. Although, we still use the Soft and Precious Detangler from time to time.
Then one of my friends (Hey Jenn!) told me about Kid's Organics Shea Butter detangler. That was one of our biggest issues (detangling). So I decided to get the whole line! (The growth lotion was free with the detangler and we love free!)
We used these from 12 months old to 18 months old. I didn't have any problems with these products. Her hair smelled great (almost like candy) but was dry.
Then I noticed that my step daughters' hair had been really growing fast, so I asked their mom what she has been using. She told me it was Mane and Tail. My mom used to use that on me when I was younger, so I thought I couldn't go wrong. So I bought the econosized bottles at buy one get one free at CVS. (I told you we love free!)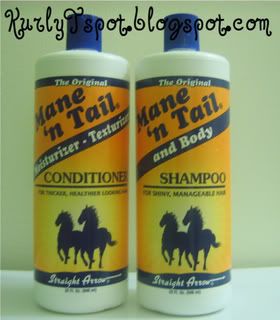 We have been using these since July 2009 because I wanted Kurly T's hair to be long and healthy. (When stretched it is past her shoulders, so good so far) I didn't have a problem with these products. They are both really thick. I use the conditioner as a leave in for detangling and it worked nicely. Her hair smelled nice but was dry.
In addition to the mane and tail we're using...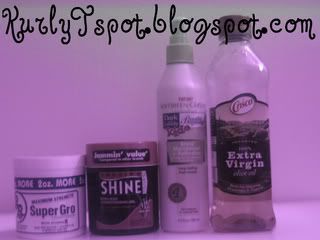 (Sorry this pic is sucky, my camera is on the fritz! I need new one, any ideas?)
I soak her rubberbands in the olive oil. I use the Smooth N Shine for her edges and I grease her scalp with the BB Super Gro (I'm planning on switching to coconut oil and unrefined shea butter as soon as this is gone). I just started using the Braid Refresher and I've only used it twice. It smells great and keeps her braids from getting frizzy so soon. I leave her styles in for about a week and it's been okay so far.
Then about 2 weeks ago, I came across Nikki's Blog
Beads, Braids and Beyond
and found her
Hair Regime
for her Kurly girl "A" and was hooked. Now we're gonna try...
I picked these up at Walmart. $5.99 for the Organix and $5 for the Herbal Essence (Cheapest I've found so far since I did price check a few places before buying...what?? Y'all should know I'm frugal by now).
I'll let you guys know how they work out. I'm ubber excited to do product reviews. I will also be trying a shea butter/coconut oil mix (to replace the BB Super Gro) and Giovanni Direct Leave-in (for a moisturizer).
Please leave comments below and email suggestions to Mom2KurlyT@yahoo.com