Wednesday, March 24, 2010
Posted by

Mom2KurlyT
at 12:20 PM
No comments:

Tuesday, March 9, 2010

Curlyiscuter.com
has some accessories that you might not be able to find in your local BSS. I just ordered some of those cute butterfly shaped beads! Oh, yea and enter for the free give away! (No purchase necessary)
Thanks
Nikki
!
Posted by

Mom2KurlyT
at 12:57 PM
3 comments:

OMG! Kurly T looks like a little lady!! I had no idea it would come out so cute. I hope you guys like!
Of course, I had to add our signature "bang". I used a purple mix of beads in the ponytail and purple star shaped beads in the front. Again, lots of compliments. This style took about 4 hours! She slept while I did the back. I would do it again, but it would have to be for a special occasion or something. But I love the results!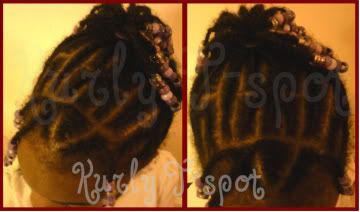 I'm still using the Herbal Essence Hello Hydration Conditioner as a leave in and it keeps her hair smelling yummy all week! I'm hooked!
Posted by

Mom2KurlyT
at 12:45 PM
3 comments:

I am a fan of these criss cross boxes. I just like the way they look. The last time I did them I used black rubberbands and this time I used pink and purple. I think the colors pop against her dark hair. Anyway, I hope you like it. We got lots of compliments on this one!
I alternated between boxes and cornrows on the side. I added the boxes to the cornrows for the design. I used bow shaped beads. They added lots of texture to this style and Kurly T wouldn't stop shaking her head to hear her beads dance!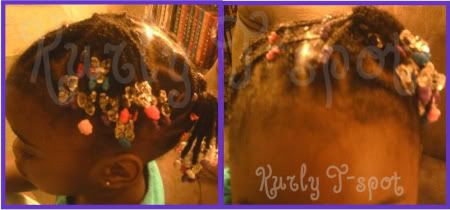 Posted by

Mom2KurlyT
at 12:39 PM
2 comments:

Monday, March 1, 2010
Posted by

Mom2KurlyT
at 4:02 PM
2 comments: