OMG! Kurly T looks like a little lady!! I had no idea it would come out so cute. I hope you guys like!
Of course, I had to add our signature "bang". I used a purple mix of beads in the ponytail and purple star shaped beads in the front. Again, lots of compliments. This style took about 4 hours! She slept while I did the back. I would do it again, but it would have to be for a special occasion or something. But I love the results!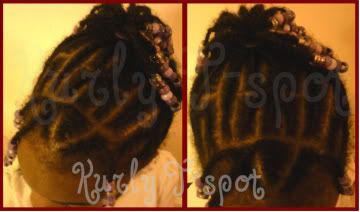 I'm still using the Herbal Essence Hello Hydration Conditioner as a leave in and it keeps her hair smelling yummy all week! I'm hooked!