I don't know why, but Kurly T's hair is the longest in the back, the thickest in the middle towards the front and short on the sides. I think she looks so cute when she has her hair in 1 puff but those side hairs come loose after a while giving her a wild "halo" look. So I tried to get the "halo" before it got me...lol. I parted a circle all the way around her head, made 1 ponytail, cornrowed her some bangs and decorated the "halo" with some butterfly beads that I got from
Curly Is Cuter
. They are so adorable!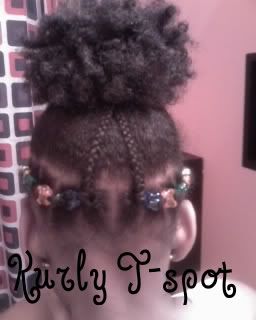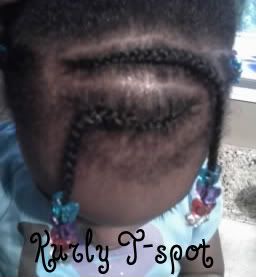 This 'do was supposed to be a ponytail with little coils. Well, that didn't really work out so well. I put the coils in with Curls Gel-les'c and they were okay. Kinda puffy at the base but really coily at the ends. Well the next day they looked like this...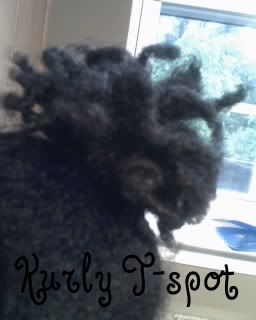 Her father said "She looks like Medusa...but she's cute!" So I quickly grabbed our spray bottle of water and Taliah Waajid Protective Mist Bodifier and separated the coils for a "coil out" and we got a juicy coil out puff! Let me know what you think!!