Hola Mamis! This weekend I had to do 3 heads!! Can you say OMG?! I washed, conditioned, oiled and banded Friday night and let air dry. Saturday morning I started a day of braiding from 10 am to 10 pm (with lots of breaks in between). I think the braids came out super cool and they love their hair. None of the designs are the same, but they are all similar. Let me know what you guys think!
Kurly T's Design up close
My triplets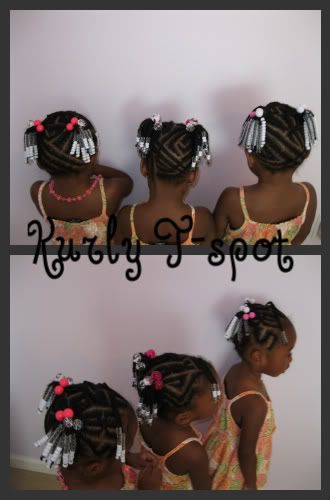 I thought this ended up looking like a butterfly, cool huh?
I taught myself how to cornrow one year ago this month. If someone would have told me that I'd be able to do styles like this after a year, I wouldn't have believed them. My daughter has been extremely patient with me and my learning curve (lol). So for all the mommies who say they can't braid, just give it a try and practice, practice, practice. Happy styling ladies!